Offer SwitchBot App control for iOS and Android, open and close the curtain at your fingertip
With "Smart learning" mode, Hub Mini can mimic your existing remote control in 5s
With the SwitchBot Hub Mini, the Curtain works with Amazon Alexa, Google Assistant, Siri, IFTTT for home automation
Pair your air conditioner, TV, and other infrared appliances to the Hub Mini
Their great
When I got them going they're great. Only one issue. Originally didn't work well and really struggled to close curtains. But I just changed the pole to a thiner curtain pole and works a treat. It's a big piece of mind knowing my curtains open and close even if I'm not in the house.
Incredible little & strong machines
To be honest, I was a bit skeptic at first. We have grommet curtains, so I wasnt sure it would work for us. I decided to take the gamble. Installing the Bots themselves was no problem. Very easy to install and the app was working very good. Calibration was done in a few clicks.
The challenge for us was to make the grommets work so that they would expand evenly, and not get stuck. Included in the box is some plastic stuff for that, but that didnt fit between my curtains and the ceiling. Also, I didnt like how they looked. So I decided to drill small holes in the upper back of the rings (invisible there), and to pull a fishing wire of 1mm through it and fix the rings with small steel wire clamps (for 1,5mm). See last picture. This was a lot of (precise) work, but the result is very satisfying. I was a bit worried about the strength of the Bots since one has to pull the curtain for 3,5mtr, but the Bot is able to do it. Very impressed by the strength and the amount of grip the Bot has.
So I would definitely recommend these Bots, I dont see them, and they do the job perfectly.
2 suggestions: 1. make WiFi available on these things because I dont understand why I should buy a Hub to make voice control work. 2. Make the included charging wire 1mtr longer; almost everyone has the wall outlets at floor level and the Bots near the ceiling. So usually that is 2,5 - 3 mtr. Adding a charger cable of 2 mtr makes no sense.
But lets end positive, very surprised and impressed how these Bots work, thumbs up!!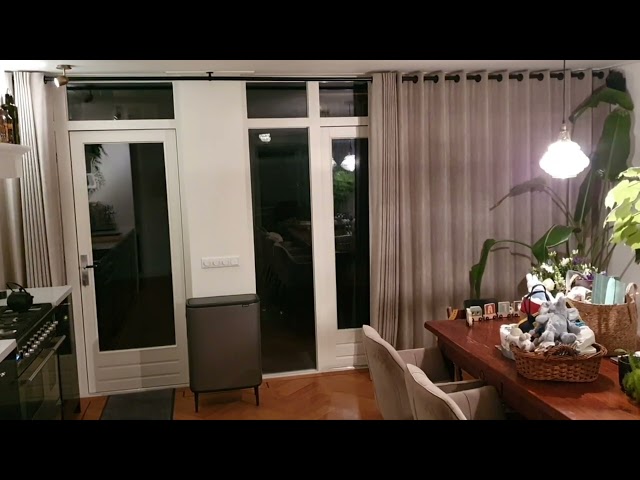 Great
Just does what it says
Easy install and closes the curtains in just a moment
Loving it!
This product along with the hub mini, makes automated life so much easier. Curtain opens at dawn and closes at dusk. Need it opened or closed right now? Just use your voice with your favorite automation director. Only thing you need to take care of is an unobstructed rail. Rails that have been slid inside of each other might prove to be too big of an obstacle for the little wheels. It pulling a 4M heavy curtain on a U-rail here. Loving it! Wife is asking for two more.
Great item
I installed this on a rod with curtain with back pockets.
Skeptical as most. I installed and downloaded app. And calibrated.
Calibration takes a bit to get it just right, but is very easy to control
Put on the schedule for the day.
Works great.
Motor does make a little noise. But it's quick.
installed with it 100% charged. After the calibration a few times and adjusting curtains. And a few days of in use. Battery is only down to 97%.
All in all good product